Originally from Argentina, Lorena is the creator behind Lo Mark.
It was there, back in her home country, where she discovered the craft of wool knit. She acquired this ancestral knowledge in the different local workshops where she worked for many years as a fashion designer.
Always immersed in the pleasure of traveling and the delight in exploring the world, she eventually set her luggage first in Barcelona and then in Paris where she finally decides to settle.
Lo Mark is a knitwear brand inspired by the best of both worlds. From Latin America, Lorena has adopted the beautiful materials and the manicured patience of its artisans to make products of exceptional quality. And from Paris the grace and elegance of an easy-to-wear style with lots of personality.
In Lo Mark we choose alpaca and merino wool. For summer, linen and cotton. We combine them wisely. The manufacturing is done entirely in South America in very limited editions, so that each hand finished product translates into a unique piece.
For the winter we work a voluptuous mesh with elaborate points games. The beauty of the materials creates a delicate, cozy and precious universe.
In summer we prioritize crochet designs and fine threads. These provide a feeling of lightness and freshness to generate an ethereal, volatile product.
Exceptional garments in one size: Layers, shawls, vests and ponchos. Pompoms and fringes as finishing touches.
Everyone will find their own unique way to wear these timeless beautiful pieces.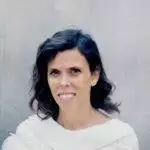 Production
Lo Mark manufactures its fabrics by hand in small workshops in Latin America (Peru and Uruguay). Its artisans use manual machines, details and finishes are 100% hand made. Each product is unique and that is why our production takes time.
Materials
All our threads originally come from the country of manufacture.
Alpaca
Alpaca wool is a high-end natural fiber, a high-quality product whose main characteristics are its softness, lightness, strength and an unquestionable thermal insulation. The alpaca is a mammal of the Camelid family that lives in the Andean highlands, between 3500 and 4500 meters above sea level, mainly in Peru. For its comfort and well-being, shear is done annually since this animal does not lose its hair naturally like other species. Shearing takes place at the end of winter, when the animal no longer needs its fleece. It is a completely painless procedure. Alpaca wool does not contain lanolin or other oils as sheep wool does, therefore it does not sting at contact with skin and it is much less likely to sponge. It is a simply magnificent natural fiber. The "Baby Alpaca" is not a newborn baby, it is the denomination of a measure of fiber fineness (21.5 microns). Baby Alpaca is seven times warmer than normal sheep wool, because simple fiber works as a thermal insulator. This wool is comfortable and breathable in warm climates thanks to the air pockets that can only be found in alpaca fibers. In addition, it is much more elastic, flexible and more resistant than other materials.
Linen
Ecological fiber that uses all the natural resources of the soil and does not need irrigation. After harvesting, the land remains clean and without waste. Linen is very pleasant to wear during summer weather. It provides a feeling of natural freshness, regulates temperature and does not cause irritation. It is very resistant, long lasting and produces no lint.
Merino wool
This type of wool comes from merino sheep. Each individual in the flock can produce 3 to 6 kilos of wool per year. Merino is a kind of wool that is often mixed with other fibers such as cashmere, alpaca or silk. This wool has many advantages: it is highly insulating, antistatic, does not sting in contact with the skin, eliminates moisture, has no smell, retains its shape without wrinkles and is naturally sustainable.
Cotton
In Lo Mark we only use organic cotton. This is a type of cotton that is grown without using chemical fertilizers or pesticides. Organic cotton is the softest and most harmless natural fiber for the skin.